As part of AAC Awareness Month, Dr. Reuben Varghese facilitated an important session on our popular webinar series "Insights with Avaz". He shared his knowledge and experience on the Impact of Consistent Symbol Location in AAC, for Easier and Quicker Communication. 
This is week 2 of Avaz Insights webinars running in honor of AAC Awareness Month. Do not miss out on the next 2 webinars – Register Here!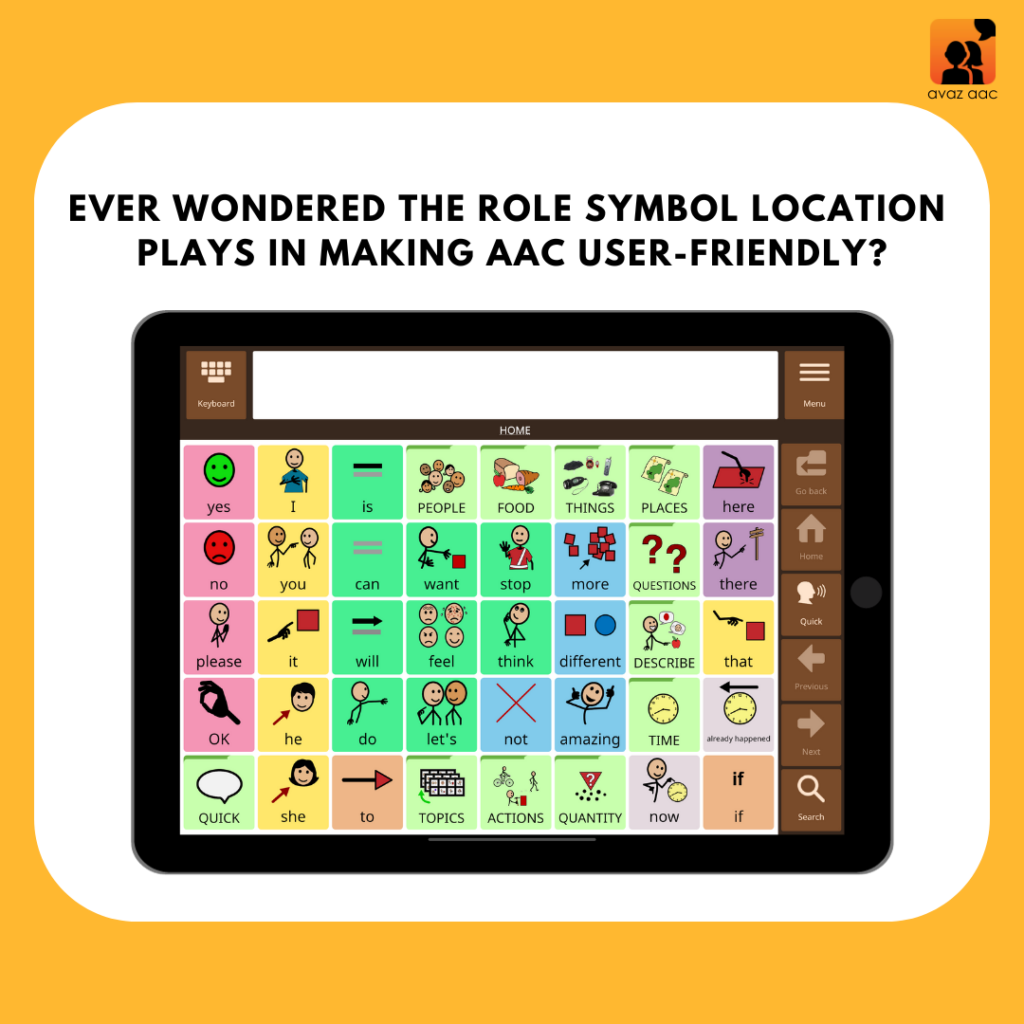 Insights with Avaz: Webinar 2
In this blog, discover the key takeaways from our recent webinar by the renowned Dr. Reuben Varghese. He shared insights on the 'Impact of Consistent Symbol Location in AAC, for Easier and Quicker Communication'. With a work experience of 11 years, he has dedicated his expertise to the Department of Clinical Services at AIISH. Dr. Reuben presently serves as a Scientist and is in-charge of COE for AAC & Sign Language.
Symbols and Grids in AAC
In the webinar, Dr. Reuben discussed the fundamental building blocks of Augmentative and Alternative Communication (AAC): symbols and grids. Symbols serve as visual representations of concepts and ideas, enabling individuals with communication challenges to express themselves. Taking the form of graphics, such as pictures or objects, they play a critical role in aiding communication.
Grids, on the other hand, are the organizing framework that structures content on an AAC board or device.
Dr. Reuben highlighted how the arrangement of symbols within these grids can significantly impact communication efficiency and effectiveness.
Iconicity in AAC
During the webinar, Dr. Reuben emphasized the concept of iconicity in AAC. Iconicity refers to the degree to which a symbol resembles the concept it denotes.
It influences how easily users can identify and relate to the symbols used in their AAC systems. Hence, understanding the principles of iconicity is crucial.
Visual Search in AAC
One of the key takeaways from Dr. Reuben's webinar was the impact of visual search in AAC. He highlighted the importance of considering the cognitive load associated with visual search. He specifically spotlighted how this can affect the overall communication experience for AAC users. 
Consistent Symbol Location & Symbol Identification in AAC
The placement of symbols within an AAC system is not put anywhere by chance. Dr. Reuben indicated that research has shown that consistent symbol location significantly contributes to the success of symbol identification. He showcased research studies that demonstrated the importance of predictability in symbol placement for efficient communication.
Practical Strategies for Effective AAC Usage
As a concluding note, Dr. Reuben offered practical strategies for the audience, and emphasized the role of consistent practice. He further added that repetition helps users store learned actions in their procedural memory. This, over time, enables AAC users to effectively use their AAC system.
Watch this informative webinar by Dr. Reuben Varghese to gain a comprehensive understanding of the impact of consistent symbol location in AAC.
Click here to Watch the full webinar now!