In honor of AAC Awareness Month, Avaz kick started 'Insights with Avaz' , a FREE webinar series. Explore the exciting lineup of the next insightful webinars hosted by AAC experts! Don't miss out – secure your spot and register now!
This week's blog brings you a summary of the last webinar. Catch up with what you missed or revise what you heard from Dr. Nimisha.
Insights with Avaz: Webinar 1
Welcome to our blog post on the first Insights with Avaz webinar. The session titled 'Impact of AAC from Early Development of Communication to Literacy' was conducted by Dr. Nimisha Muttiah. She is an expert in Augmentative and Alternative Communication. Dr. Nimisha shared her valuable insights into the transformative power of AAC. She traced its impact throughout the communication journey – from early communication to literacy development. 
AAC: A Gateway to Communication
Dr. Nimisha Muttiah emphasized the vital role such apps play in facilitating communication right from the beginning. Whether it's using low-tech tools like PECS (Picture Exchange Communication System) or high – tech solutions like AAC which empowers individuals with diverse communication needs to express themselves.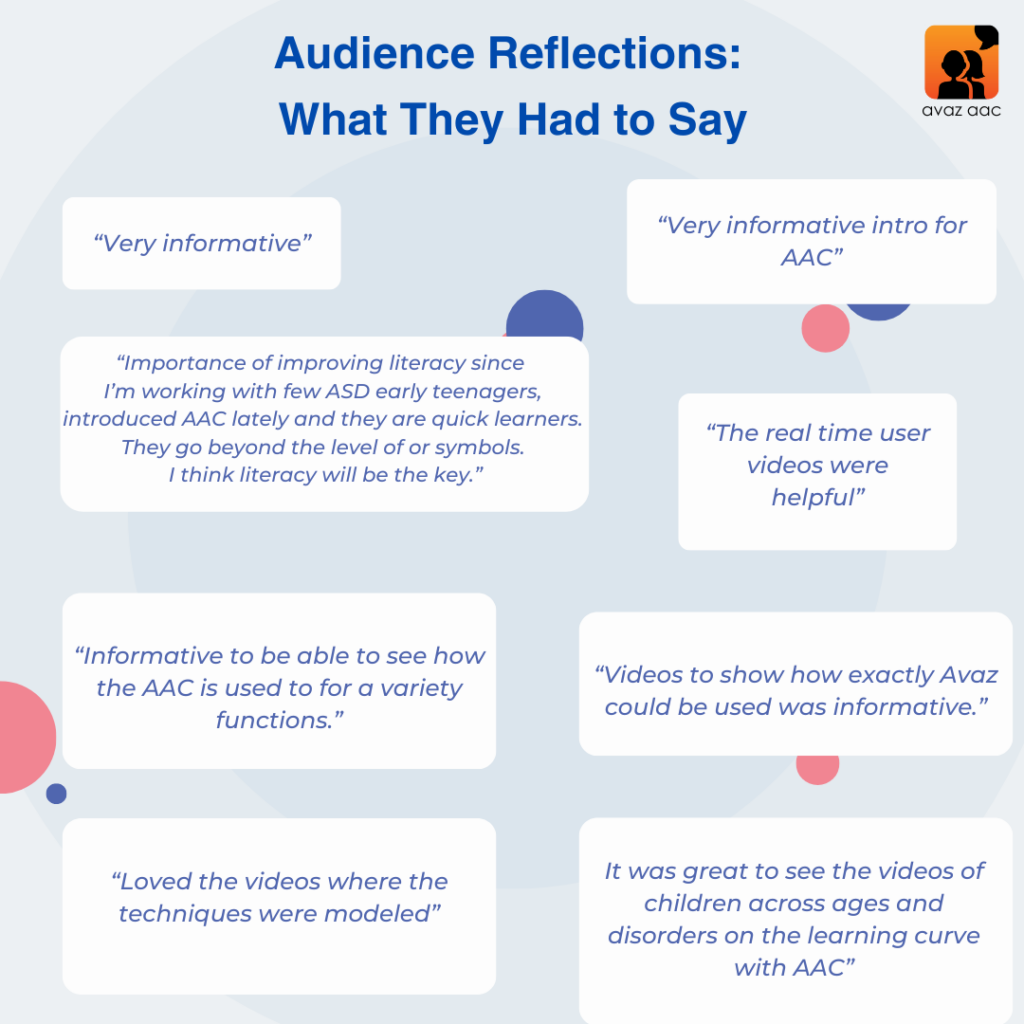 A Versatile Companion
AAC is not just about requesting. It serves a multitude of functions, making communication richer and more diverse. Through many inspirational videos featuring users, the participants learned the incredible potential of AAC in real-life scenarios.
Importance of Literacy
Literacy, as discussed by Dr. Nimisha Muttiah, plays a pivotal role in all children's lives. For children with significant communication difficulties, who may struggle with verbal expression, literacy becomes even more important. For individuals who use AAC, literacy empowers them to articulate their thoughts more comprehensively. This opens up an avenue for powerful self expression and  enhances their communication abilities.
Click here for free downloadable posters on: early introduction of AAC + how it can be used with multiple functions of communication.
The Interplay of Literacy and Communication
One of the most compelling aspects discussed was how AAC and literacy are intertwined. Dr. Nimisha Muttiah showcased how these tools aid not just in communication. They play an important role in fostering literacy skills. 
In conclusion, the webinar was a valuable resource for understanding the significant influence AAC has on individuals' communication journeys. We encourage you to watch the full webinar linked below. It will definitely expand your knowledge. Plus, you will support AAC Awareness Month by learning more about the incredible world of AAC.
Click here to view the full webinar: Impact of AAC from Early Development of Communication to Literacy