We are back with another webinar summary and recording as part of the Insights with Avaz series in honour of AAC Awareness Month. In this blog we feature the session on literacy by leading AAC expert & SLP, Lauren S. (Enders) Gonzales.
We are nearing the conclusion of our FREE webinar series! Don't forget to mark your calendar for the upcoming and final session on 'Initiating AAC for Adult Users: Developing Life Skills and Independence.' Save your spot – Register Here!
Literacy & AAC
In the previous "Insights with Avaz" webinar, AAC expert Lauren S. (Enders) Gonzales took us on a fascinating journey into the world of AAC-oriented Literacy skills. She explored how this vital aspect can enhance communication for AAC users. This blog shares a summary of the webinar's key takeaways, providing you with a glimpse of the valuable insights shared. We encourage you to watch the full session through the link at the end of the blog.
Why Literacy Matters for AAC Users?
Lauren commenced the by explaining that for AAC users, mastering literacy isn't an option. It is a necessity. It enables AAC users to share ideas, stories, and information in diverse ways – empowering them to connect with others on a deeper level.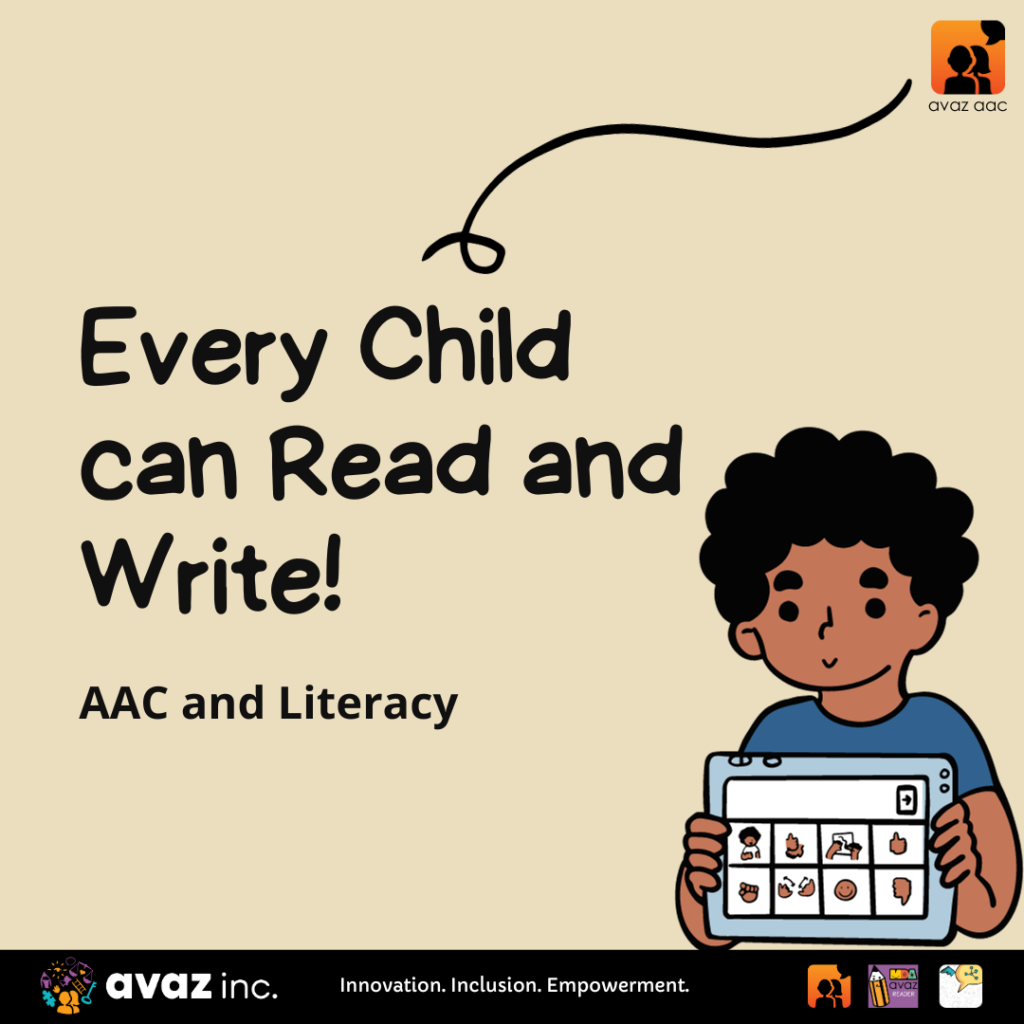 The Connection Between Reading and Communication
Lauren explored how literacy acts as a bridge between individuals. It is the medium through which stories are shared, emotions are expressed and knowledge is transferred. She emphasized that it is a key that unlocks full participation in education, work, and daily life. By harnessing the power of literacy, AAC users can lead more fulfilling lives.
Importance of Emergent Literacy
Early literacy skills, knowledge, and attitudes provide the building blocks for lifelong literacy development. The webinar highlights how these foundations are crucial. Lauren took the audience through the relevant skills that AAC learners can cultivate. Such skills ensure that learners are prepared for more advanced learning experiences.
Practical Strategies for a Fun Learning Journey
Lauren provided the audience with practical tips on how AAC users can experiment with the concept of exploring "marks" on paper. She touched upon how we can use symbols, pictures, and letters purposefully for effective communication. Lauren also discussed ways in which we can ignite motivation and interest in such activities. This will ensure that learning is enjoyable and engaging.
Watch Lauren's Webinar
The webinar seamlessly explains how AAC and Literacy complement each other. Together, they provide AAC users with a complete toolkit for impactful communication. Explore these topics in-depth by watching a recording of the full webinar.
Click here to watch this FREE session by Lauren S. (Enders) Gonzales!
Further Reading