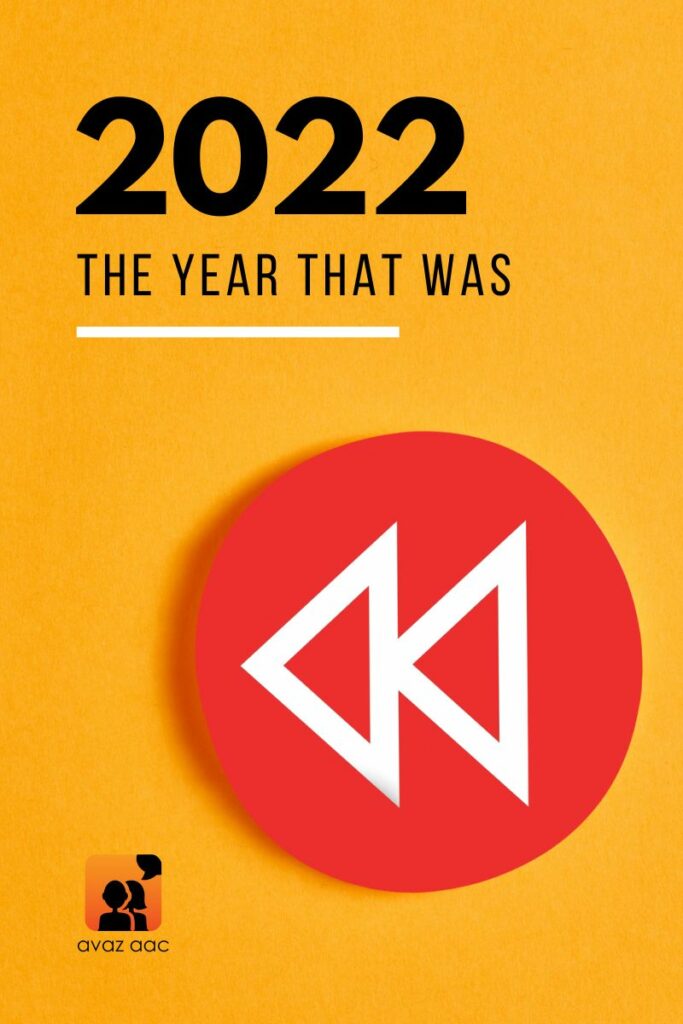 As the year comes to a close at Avaz, we take a moment to reflect on the year that was 2022!
The Year That Was
The year gone by has been kind to us.
This year, we have seen significant progress, both as a product as well as a team. Some of these achievements include extensive product updates, new partnerships, delightful user experiences and more. We are excited to look back and share these stories. For, none of it would have been possible without YOU!
We are grateful to have such a wonderful community of users. We are committed to providing you with the best possible experience. To meet your needs and exceed your expectations – that is the driving force behind all our work.
Let's take a look at an Avaz Rewind of 2022!
Product Updates: Elevating your AAC Experience
This year, we made extensive updates to the Avaz AAC app. The app now has a cleaner screen layout. The side navigation bar is completely customizable. Easier access to features was one of the main goals in this update. You can see this in action with the 'Favorites' folder for frequently used phrases.
We have introduced a cool new dark mode theme, which we like to call 'Outer Space'. The voices have seen an upgrade too! Our Android users can now experience high quality ReadSpeaker voices.
Communication is and should be fun! The updated Avaz app has an improved library of images to cater to evolving user preferences. And we now have GIFs too!
The revamped Avaz AAC is receiving great reviews! We look forward to improve Avaz even further on the basis of the feedback from our beloved users 🙂
And wait, there's more!
Avaz's Faroese, Swedish, Hungarian, and English(UK) versions are now also available on Android. PLUS – we are now compatible with Chromebooks!
Partnership
Eyetech's EyeOnAir is an eye-tracking device for Android.
We have integrated Avaz AAC with their eye-tracking technology. Thanks to this, users who require eye-tracking to navigate their devices can now access the Avaz app. This partnership has allowed us to make even more voices heard!
Avaz in Tamilnadu
It was an honor to showcase Avaz AAC to Thiru. M K Stalin, the Chief Minister of Tamil Nadu. This took place at an event marking the International Day of Persons with Disabilities.
We had the opportunity to present Avaz AAC at a virtual event called "Assistive Technology Innovations for Inclusive Education". This event was organized by the Department of School Education & Literacy in the Ministry of Education in India.
We partnered with the Government of Tamil Nadu to train 390+ Special Educators in 6 zones of the state. The training was provided on a range of AAC techniques for children with autism and other neurodevelopmental disorders.
Team Avaz traveled to 38 districts in Tamil Nadu as part of our "Avaz on Wheels" initiative. We were able to distribute 590+ Avaz AAC loaded devices throughout the state.
Strengthening the Communicator's Ecosystem
We strongly believe that an informed and supportive ecosystem is essential for a communicator's progress. This ecosystem includes parents, special educators, SLPs and other caregivers. It is important that each member of this team around the communicator constantly keeps learning and updating their knowledge.
To this end, we have designed and made available a range of training courses:
The Avaz Certified Educator (ACE) program for special educators. As of 2022, ACE has trained 500+ participants.
The Avaz Certified AAC Professional (ACAP) program for SLPs. In 2022, 105 SLPs from 64 cities and 17 states have been certified.
The Aarambh module for parents. As of 2022, 100+ parents from 29 cities and 19 states have availed this training.
Here is some feedback we received about the courses:
"The content and resources were very well planned. All our doubts were cleared. Explaining concepts and techniques with real life examples made understanding everything a lot more better."

Saniah Sayed, Speech Language Pathologist, Parijma Institute of Neuroscience, Karnataka.
"Great learning experience!"

Deepthy Ann Joy, Speech Language Pathologist, Revive Center for Rehabilitation, Kerala.
"Excellent resources and coursework. The homework aspect was very helpful."

Deepthi Dechamma, Speech Language Pathologist, The Happy Health Project, Maharashtra
Spreading AAC Awareness
Working to spread AAC Awareness is a 365 day affair. Here are some of the highlights from 2022 in this regard.
Expressive Art Contest
In April, as part of Autism Acceptance Month, we held an "Expressive Art Contest" for children. It was envisaged as a platform for them to express their thoughts on inclusion through art.
Collaborations & Celebrations
We collaborated with Inclusive Duniya, a social media account that promotes inclusion through art and shared content on multimodal communication. We also celebrated special occasions with AAC storytelling and created custom boards for our users to participate in the celebrations.
AAC Awareness Events
We conducted a free, 4 part AAC webinar series for the fourth year in a row. This was attended by 700+ participants from 25+ countries, including 200+ international participants. The webinar featured well-renowned SLP and AAC consultant Lauren S. (Enders) Gonzales and other experts in the field. We also organized a one-day webinar with SLP Neha Tiwari for parents and caregivers on the topic of AAC decision-making.
We submitted 3 research papers for GATEC, ISAAC, and ISHACON on Avaz AAC. The papers focused on inclusion, empowering adults with speech disabilities, and training families through teletherapy.
We participated in the EMPOWER Conference at the IIT Madras Research Park in Chennai, India. This event focuses on spotlighting and creating awareness about Assistive Technology solutions in India. At the conference, we had the chance to display the EyeOn Air device.
With major updates to the Avaz App, we wanted to ensure that our users are well prepared for the changes. To support users and members of their communication ecosystem, we hosted 24 open demos to provide information and guidance.
Talking Fingers: The Book
Some of our users were featured in Talking Fingers, a book co-edited by Padma Jyothi and Chitra Paul. It features the responses of 16 non-speaking autistic individuals to a set of 17 questions. This pathbreaking book provides a window into their thoughts on various subjects.
Read more about the book here. You can purchase the book here.
Our Team Members are A.W.E.S.O.M.E
We are proud that two of our team members were featured in interviews on the popular website "SheThePeople TV," Asia's largest women's channel. They shared their stories of balancing work and life while parenting children with special needs.
Team Avaz Got Bigger!
2022 saw us welcome seven new members to our team in various disciplines.
As a remote-first company, most of us have met only over video calls. The middle of the year saw us gathering to meet all members for the first time. Our annual meet in Pondicherry, India gave us many memorable moments together.
Meet Aditi: A Writer & An Avaz AAC User
Aditi Sowmyanarayan, an Avaz user and writer, is now frequently sharing her thoughts on the Avaz Megaphone platform. Her stories and articles allow readers to understand the perspectives of children with communicational difficulties.
Click to read the insightful short story titled The Window in an Iron Curtain, authored by Aditi.
To New Beginnings
As the year comes to a close, we wanted to take a moment to pause. To reflect on all that we have accomplished and look ahead to the exciting opportunities that await us in the coming year. We are extremely proud of these accomplishments and are grateful to everyone who has supported us along the way.
Team Avaz has big plans for the coming year. We are grateful for your feedback and suggestions. And are immensely blessed to have you be a part of our journey.
Here's to a successful and prosperous 2023!