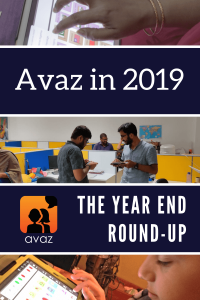 2019 has been a truly eventful year for Avaz. As the year draws to a close, it's time to reflect on all that transpired in the past 12 months. We may be a tech savvy bunch, but our focus is more on the human impact our technology solutions create. This year too, we strove to create better products that meet the high standards our customers have come to expect from us. This customer-centric approach is what we believe makes Avaz a cut above the rest in the AAC & the Special Education tech space.
Here are the highlights of year 2019 for Avaz Inc.:
New Products, Strengthening Partnerships
Avaz Inc. is a huge proponent of ensuring AAC vocabulary access in users' own native languages. This year, we were thrilled to release Avaz in two more languages, namely Bangla and Faroese. We also launched MDA Avaz Reader, a reading assistance app that enables children to read better. This is our endeavour to provide reading practice and support to children so that they can discover the joy of reading.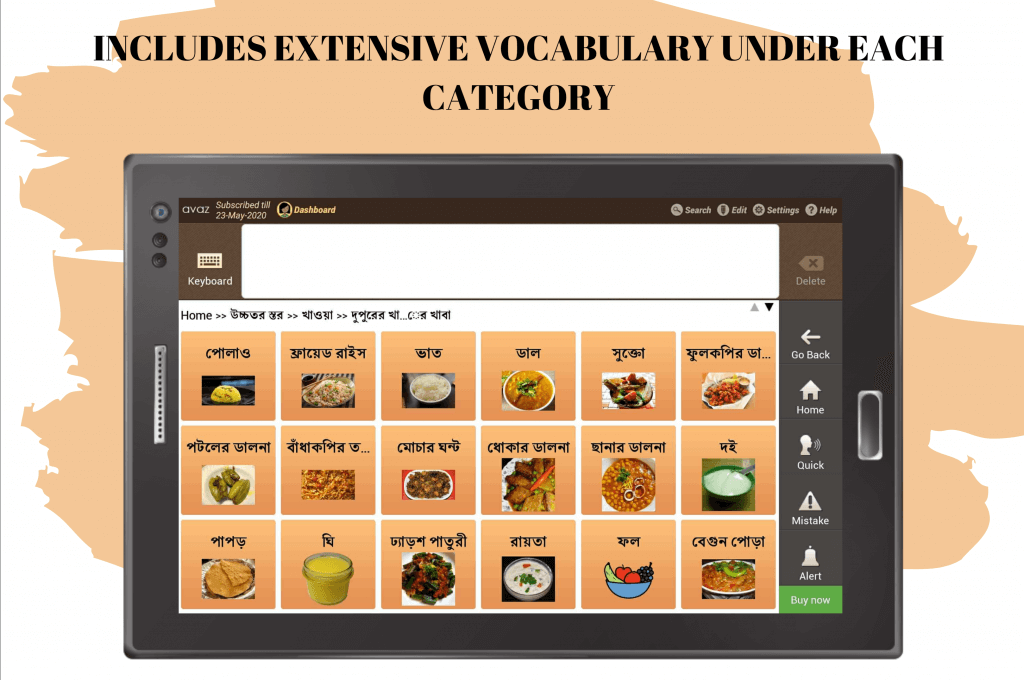 Our team visited Bangladesh in July 2019. Here we realized the urgent need for a Bangla app that allowed children with complex communication needs to communicate in the language their parents and teachers spoke. We were also inundated with requests from special educators and speech pathologists in Bangladesh for an AAC app with Bangla vocabulary.
We released Avaz Bangla in November 2019 to address the needs of Bangla people with communication deficits. Avaz Bangla comes with an extensive Bangla vocabulary that reflects the culture and traditions of the region. It has a powerful Bangla keyboard that equips people with communication challenges to communicate in their native language. This not only expands their communication possibilities, but also breaks down barriers to their literacy.
We conducted several training sessions in Bangla speaking regions to educate all the AAC stakeholders including parents, special educators, and speech pathologists. We have a lot more planned in the upcoming months to illustrate the benefits of AAC, including live demos and webinars.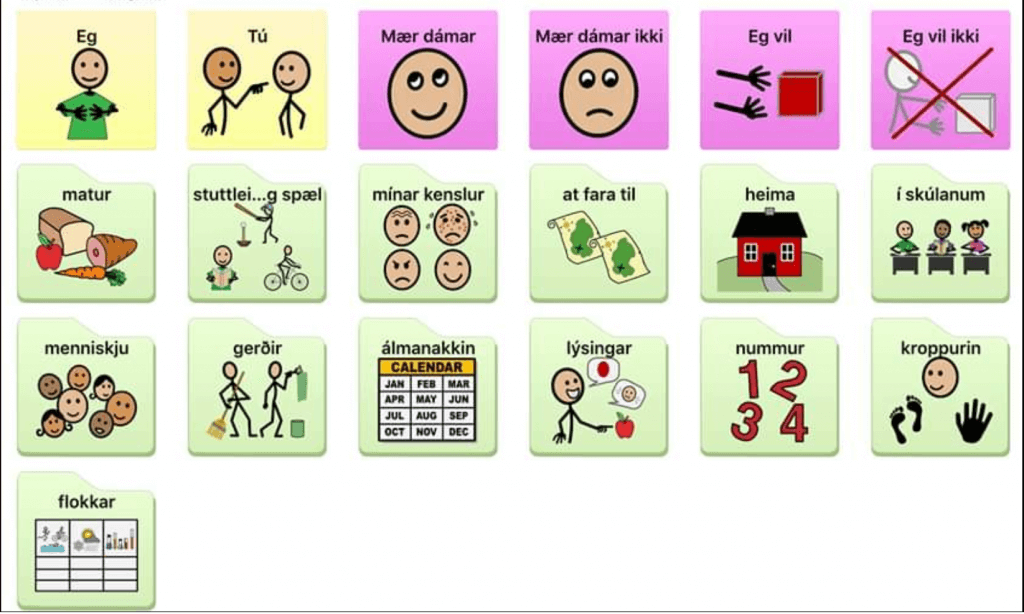 Avaz is a firm believer that no individual should be deprived of the opportunity to realize their full potential due to their disabilities. Nor should lack of access to adequate resources be an obstacle. So, when we learnt about the requirement for an AAC app in Faroese, we felt privileged to be part of the AAC journey in Faroe Islands, a North Atlantic territory with a population of around 51,000 people.
We released Avaz in Faroese in August 2019, with the support of assistive technology enthusiasts and disability inclusion advocates from Faroe Islands and Denmark. We worked closely with the Faroese team to create extensive vocabulary that included appropriate gender inflections, and other nuances of the Faroese language. We are excited to see people having communication deficits in the region find their voice and express themselves through the Avaz app.
Avaz created MDA Avaz Reader in collaboration with the reputed Madras Dyslexia Association (MDA), which has more than twenty years of experience in dyslexia education. MDA Avaz Reader is a reading assistance app that promotes independent reading in children of all ages, and enables them to read better.
Reading regularly enriches a child's life by stimulating their imagination and enhancing their knowledge on various topics. MDA Avaz Reader has exciting stories with rich vocabulary and captivating images, that motivate young children to read. It also offers reading support such as syllable hints, rhyming hints and pronunciation help so that readers do not get stuck on unfamiliar words. Reader also has the option to import PDF or add images of text so that the child can get help with reading texts they are currently studying.
Fluent readers typically perform well in academics because reading is an essential component of classroom instruction and standardized tests. MDA Avaz reader incorporates proven strategies that help develop reading fluency and reading comprehension in children, setting them up for academic success.
This year 283 Avaz AAC installed devices were distributed in Government schools across Tamil Nadu. This was part of our continuing partnership with the Government of Tamil Nadu which began with the distribution of 197 Avaz AAC installed devices in 2017. With this, the biggest AAC / AT intervention in South Asia, got even bigger!
Avaz is honoured to be associated with the state government's endeavours to facilitate AAC implementation in schools across Tamil Nadu. Thanks to this continued partnership, children with communication deficits in underserved communities are getting access to a robust AAC app so that they get a voice of their own. We aspire to be involved in more such projects so that all children get a chance at gaining literacy skills and developing their communication abilities.
AAC Awareness Activities:
Even with all the advancements in AAC technology, it is disheartening to see that several people with complex communication needs do not get to realize their full potential. There are three main underlying causes for this:
A lack of awareness about AAC

Unfounded fears and unsubstantiated myths about AAC

Inadequate access to AAC resources
Every year, Avaz works tirelessly to combat these challenges, and to propagate the merits of AAC. Here are the AAC awareness events we were part of this year: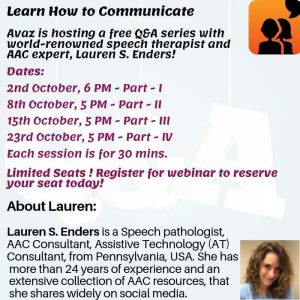 This year, we had a 4- part webinar series with Lauren.S.Enders, world-renowned speech therapist and AAC expert. The well-received webinars contain a wealth of information, with practical examples, and demonstrations of AAC use. Lauren did a splendid job of busting AAC myths, addressing the concerns of AAC beginners, and explaining vital AAC strategies.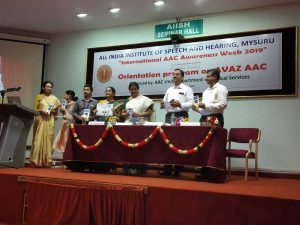 We conducted several Avaz workshops across India to spread AAC awareness. We trained parents, special educators, and users in many special schools across India including in Bangalore, Noida, Delhi, Mumbai, Kerala etc. Here are some of the prominent events we were privileged to be part of in 2019:
We were part of AAC awareness week events conducted in All India Institute of Speech and Hearing (AIISH), Mysuru during October. We spent an entire day emphasizing the benefits of AAC. We had live interactive sessions with parents, who were thrilled to participate in all the activities. Parents were split into teams and given a few communication scenarios. They were then asked to create relevant folders and icons in Avaz for the same. Parents showed great enthusiasm taking the stage to explain how effortlessly they were able to customize Avaz.

We conducted workshops for students and members of faculty in several organizations including NIEPMD(Chennai), SR Chandrashekar Institute of Speech and Hearing (Bangalore), CMC (Vellore), V-Excel (Chennai) etc.

We trained Speech therapists from Speech clinics / organisations like NISHTA (Chennai), Magpie (Bangalore), CFORAT and Therapy Abroad (California, USA).

We attended the EMPOWER Conference at Delhi where we reiterated the importance of training parents and caregivers for successful implementation of AAC.
App Updates
It has always been our quest to do better, not only for ourselves, but especially for our incredible customers. We constantly look to make improvements so that Avaz users make the best use of the app. Avaz AAC app now displays saved sentences assigned to keys so that the user can easily load these saved sentences. This ensures quick access to frequently used sentences and encourages users to employ them in common scenarios. We have also included an auto clear option so that messages get cleared from the message box after they are spoken out. This speeds up communication without the user having to manually delete previous message before constructing a new one.
As we approach yet another exciting year, it's time to celebrate our successes because they reinforce our faith in team work and diligence. It is also time to look back at things that didn't go according to plan. We choose to remember these as lessons learnt, and forge ahead based on the knowledge gained. Most importantly, it is time for gratitude. We are grateful for your continued support and express our thanks for your constructive feedback. Your confidence in us gives us the impetus to push our boundaries and create even better technologies that enable inclusion, access, dignity, equality & empowerment.