Does the AAC user in your life start conversations on their own?
Do they signal to you that they are ready to begin communicating?
Do they get your attention before they start sharing their message?
If you answered 'No' to any or all of these questions then you have to begin teaching your AAC user about initiating communication with AAC.
Initiating Conversations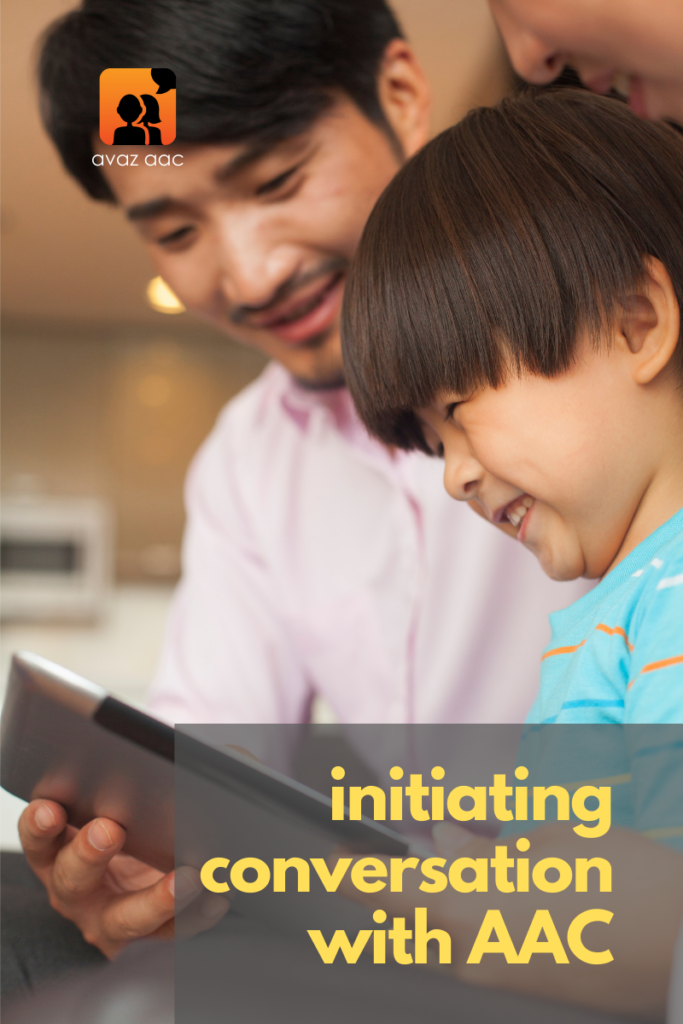 Starting conversations is a skill that needs practice and one that does not come easy to many of us. For people with complex communication needs, this skill needs additional support. You can encourage your AAC users to initiate conversations in different ways. Support your AAC user to use any modality that is comfortable for them.
Words or sentences
If they can say a word to call out to you either by calling out your name "mom" or by greeting "hi" to get your attention, support them to use their verbal language to start your interaction. If not verbally, you can use messages on the communication device while initiating communication with AAC. Some example messages could be " I WANT TO SAY SOMETHING or I WANT TO TALK".
Sounds
You could support your AAC user to make sounds to alert the communication partner to signal initiation. E.g. The user could make a humming sound or any other vowel sound that they can make independently. Some communication devices have an inbuilt alert button which can also be used to get the attention of your communication partner.
Gestures and body language
Some AAC users could also use gestures, e.g. lifting their finger/hand up and body language like looking at their communication device to signal to you that they are ready to begin communicating.
Once you identify any of these initiation behaviours from the AAC user, you need to acknowledge it and reinforce it. For example, if your AAC user uses a gesture to initiate, e.g. lifts her finger up, you can say "Hey I see you lifted your finger up. You have something to say". By doing so, you are telling them that their initiation behaviour was understood.
In Conversations
Initiation is also needed in the middle of conversations. Conversations need to involve turn taking and cannot be monologues. So we need to support our AAC users to speak up in the middle of conversations but also to continue conversations that were started by a communication partner. Some concepts that would be helpful to teach are:
Teaching your AAC user to say "EXCUSE ME" in order to politely interrupt the speaker and then use the message from earlier "I WANT TO SAY SOMETHING".
Sometimes users need time to process information or complete their message so it would be useful to teach them to say "PLEASE WAIT" as they take time to think about what to say or take time to type their answer to your question.
Repair
Sometimes even after initiating there can be chances of a breakdown in communication. A new communication partner may not fully understand the AAC user's preferred method of initiation and may not wait to hear the AAC user's message. In these cases, it would be useful to role play those situations and teach the user to:
Respond when communication partners say things like "I don't understand what you are doing?" or "Can you repeat that?". Teaching users to understand a communication breakdown and respond appropriately would be helpful.
Advocate for themselves. You could have a pre-stored message like "I MOVE MY HAND WHEN I AM READY TO COMMUNICATE" so that the communication partner is now aware and looking out for the visual clue from the AAC user.
So in summary, it is our responsibility as the trusted and familiar communication partner to teach AAC users to initiate communication, look out for and acknowledge those behaviours and support them to keep practicing the same. Discuss with your Speech Therapist and find the best way for your AAC user to practice initiating communication with AAC.
WRITTEN BY
Nayantara Nambiar, MSP, BASLP
Speech Language Pathologist

Trained in India and Australia, I am passionate about supporting people with communication and swallowing difficulties. Equipped with experience in Rehabilitation, School and Early Intervention settings, I strive to provide a holistic intervention approach tailor-made for my clients and their families.