In India, the state of Tamil Nadu is a pioneer with respect to initiatives for empowering the disabled. Numerous government and government-aided schools for the differently-abled which come under the purview of the Tamil Nadu Government's Directorate for the Differently-abled. A variety of special education training is offered to autistic children in these schools.
Since 2016, Avaz has had the honor of working in partnership with the Tamil Nadu government in India. In this blog, we tell you more about the work we are doing through this partnership.
Partnership with Tamilnadu Government
Avaz has been associated with the State Government's endeavors to facilitate AAC implementation in schools across Tamil Nadu, since 2016.
First of its kind in India, this partnership is a huge step in getting hi-tech AAC in the hands of those who need it in underserved areas and communities. 480 Avaz equipped devices have been distributed in government schools and special education resource centers. This has been done in two phases, through the Government of Tamil Nadu.
In 2021 Avaz bagged the Tamil Nadu Government tender to distribute 497 more devices loaded with the Avaz AAC app.
Special Training Programs
After completing the distribution of Avaz loaded devices, Team Avaz undertook the training of special educators working with the Tamil Nadu government. As part of a special training program, we trained 375+ Special Educators across 6 Zones, over 6 weeks. Special educators were selected in a manner so as to ensure that each school has at least one fully AAC trained Special Educator.
The 6 zones covered in this training were Chennai, Coimbatore, Madurai, Trichy, Tirunelveli, and Salem.
Based on State Commissionerate for the Differently Abled's (SCDA) instructions, we conducted in-person training sessions. Each session spanned 6+ hours that included both theory & hands-on practice time. The training was focused on teaching about AAC (Augmentative and Alternative Communication) and how to implement AAC using Avaz in schools. This was all done using practical implementation techniques and ideas.
Emphasis was laid on the various techniques to be adopted while training children with autism. Further, discussions were also held about how they could create awareness about the needs of people with autism among the public.
The attendants were informed about the insurance covers on the device and software. The procedures and support available to get a backup in case of accidental damage to the device or accidental deletions of the software was also explained. This helped to reassure them to use Avaz without fear. 
Training Methodology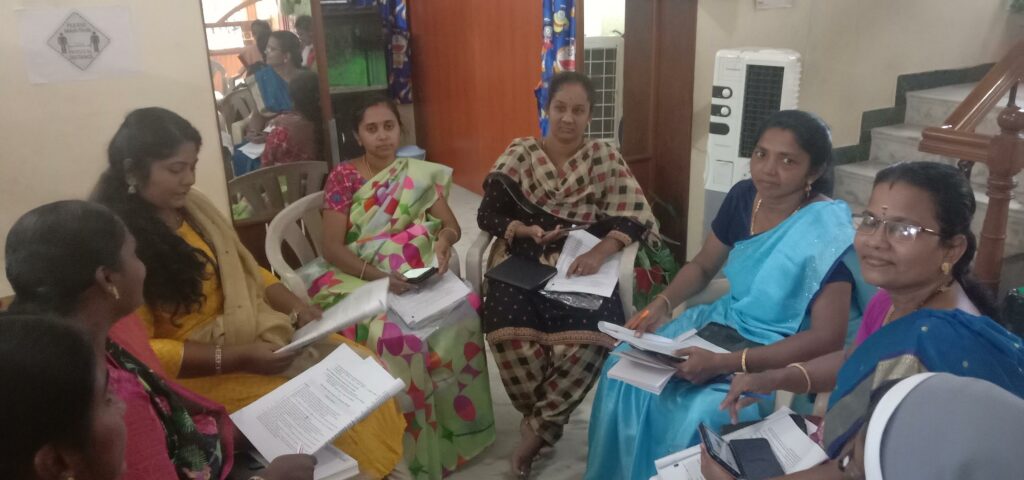 The sessions were delivered in English. Tamil explanations were provided as and when required. This was done as the educators felt most comfortable with the Tamil language.
The modality of group discussion was used with great success. Teachers were divided into groups. They were then asked to discuss a specific scenario and how they would use Avaz in it. Thereafter, a few members from each group presented their solutions. This process ensured that many groups explored Avaz settings and customizations. By observing different groups, the teachers began to display confidence to use Avaz independently – outside the given scenarios.
Role-playing is a powerful training modality because it makes learning more relatable and easier to recall. At the Trichy Zone session, two teachers acted out a roleplay in which one played a non-verbal child. The child was drawing the teacher's attention to various objects, such as a water bottle or lunch bag etc. The participant playing the teacher used Avaz in picture mode to comprehend what the child was attempting to communicate. This effective role-play allowed all the participants to easily understand the possibilities that Avaz brings into their classroom!
Feedback From Participants
Majority of the participants conveyed feedback that this training was highly informative. Through the feedback we also understood that a few participants were encountering AAC for the very first time.
The bilingual explanations provided in English and Tamil were well received and appreciated. They also requested regular follow-up sessions to get their doubts clarified that would arise during the implementation process, as they learn more.
After the training, a young special educator from Salem spoke about her initial skepticism around using technology like Avaz. She also shared how she usually made assumptions when a child became agitated. Thanks to the Avaz training program, she now feels confident about using Avaz to determine why a child might become agitated during class hours.
Participants requested regular follow-up sessions. This so that they can get their doubts clarified during the implementation.
From the feedback received, we believe that the start of these educators' AAC journey was meaningful 🙂
A Smooth Partnership
We would like to place on record that we had an excellent experience working with the Tamil Nadu government. The professional tendering process followed by timely payments were a huge support. This enabled even a small business like ours to aspire to making a big social impact, in tandem with the government.
Team Avaz coordinated with various DDROs (District Disabled Rehabilitation Officers) to finalize the space and infrastructure for the training. The support rendered by them was very helpful. 
Making Every Voice Heard!
We strongly believe that this training has laid a strong foundation stone for the adoption of AAC in Tamil Nadu Govt. special schools. The impact of this will be felt across the entire socio-economic spectrum.
It was an excellent opportunity for us. We got to meet many Special Educators across Tamil Nadu who are under the supervision of SCDA. As a team, we did our best to train them to implement Avaz in their respective schools. We look forward to them empowering the children under their care with the power of communication!
Avaz AAC paves the way to communicate in the best way possible. By presenting users with a wide range of vocabulary and voices, it enables them explore the world on their own terms. Avaz opens up new ways of seeking & gaining knowledge. By enhancing communication and learning opportunities, Avaz builds confidence and independence!
We believe in giving the power to communicate!