Let us explore one of the most frequently voiced questions: Does my child still need AAC after verbalizing? In today's blog, we will dive into the journey of a communicator through all stages of language development and the role of AAC during and beyond that. Along the way, we also bust some myths related to this topic!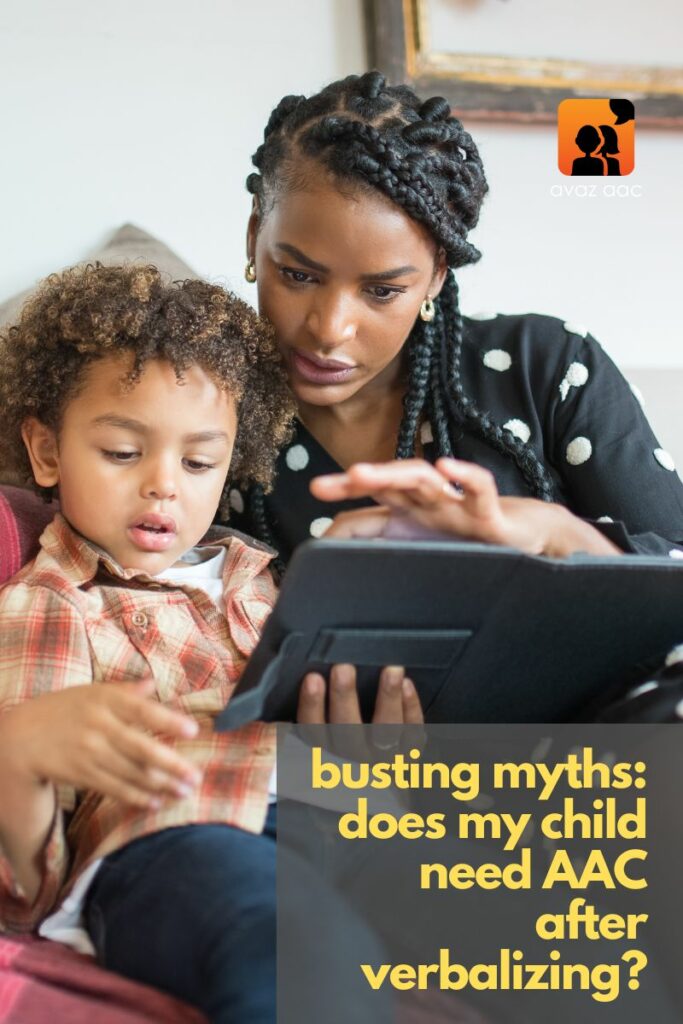 The Fundamental Questions
There are 2 fundamental questions every AAC parent faces:
When can I introduce AAC to my child?
My child is verbalizing, do I still need to use AAC?
AAC does not have a pre-requisite. This means, we can introduce it to toddlers from the age of 6 months onwards – with disabilities such as Autism, Down Syndrome, Cerebral Palsy, and unspecified developmental delays. At the same time, adults facing communication difficulties due to head injury or stroke, benefit majorly from AAC.
Early intervention works effectively for children's overall development. Read more here
There are many myths about AAC in circulation. One of the biggest is that 'AAC is not needed once the child has enough verbal speech and can communicate sentences'.
Why AAC is Important at all Stages of Development
In the stages of communication development, an AAC user goes from being an emergent communicator to an independent communicator. An emergent communicator is just starting out with AAC. They may not be aware of the meaning behind tapping each picture on their device. For example: when they touch the alert button on the device, they may not understand what it is at the beginning.
Gradually, a communicator transitions from this phase to being an independent communicator. When they do, they are equipped with large a vocabulary skillset. This enables them to express their opinions and engage effectively.
Is AAC Required After Verbalizing?
Here is where the big question comes. With the communicator being able to express independently, do they still require to use AAC?
Verbalizing means to express something in words. The scope of clearer and better language development for an AAC learner increases with the right assistance and practice.
If a child is only able to say the same scripted, limited sentences ("I want an apple." "I want to play."), they may be having trouble segmenting. This means differentiating where one word starts and another ends. He/she might be treating each of those sentences essentially as one long, large word. 
The child should be able to differentiate between –
Wanting a specific object such as apple AND
Understanding that to express hunger, they could tap on "eat".
With AAC in practice even after the verbalizing stage, the communicator will begin to understand the differences.
Additionally, some individuals who can verbally express themselves well may occasionally be unable to do so (for example, when they're tired, or when they're ill). For these individuals , AAC is suitable and advantageous in the long run. This is because it gives them a voice at a situation when they are most vulnerable.
AAC Beyond Speech & Language Development
AAC gives the child the means to express themselves and assist in speech and language. The support does not end there. It also benefits the communicator in cognitive abilities, literacy, social interaction, access to education. Additionally, it remains a steadfast partner their professional journey too. 
Growing with AAC
Effective communication depends on the capacity of the communicator as well as their family, caregivers, professionals, etc.
AAC is the bridge to overcome communication barriers. It neither generates speech nor impedes one. Language development is an on-going process. A communicator learns specific sets of vocabularies in different phases of their life. Starting off as a child to stepping into the professional space, a communicator will adapt and emerge with different communication levels. With the right assistance, AAC helps them build new vocabulary and deliver novel sentences independently during their journey.