When you ask, we LISTEN!
And now we have GREAT NEWS!!!! 
Thanks to your requests, we are excited to extend our 50% discount until October 31, 2019!
We at Avaz understand how important it is to have a voice. We firmly believe that cost should not come in the way of being heard. 
This AAC Awareness Month, no potential user will get left behind!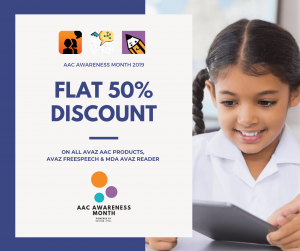 All Avaz products will be available at a FLAT 50% DISCOUNT till October 31, 2019! Yes, you read that right! 
Communication for all will be a reality this October! 
The discount is applicable to:
Avaz AAC products 

Avaz

FreeSpeech

MDA Avaz Reader for Dyslexia.
Help us Spread the Word
Share this news with loved ones who would benefit from it the most.
Queries?
Our Support team is here to assist! Reach us 24×7 at support@avazapp.com
Note: The discount for MDA Avaz Reader for Dyslexia is not currently available through the App Store or Play Store.  If you would like to purchase MDA Avaz Reader for Dyslexia at the discounted price, please use the payment link above.