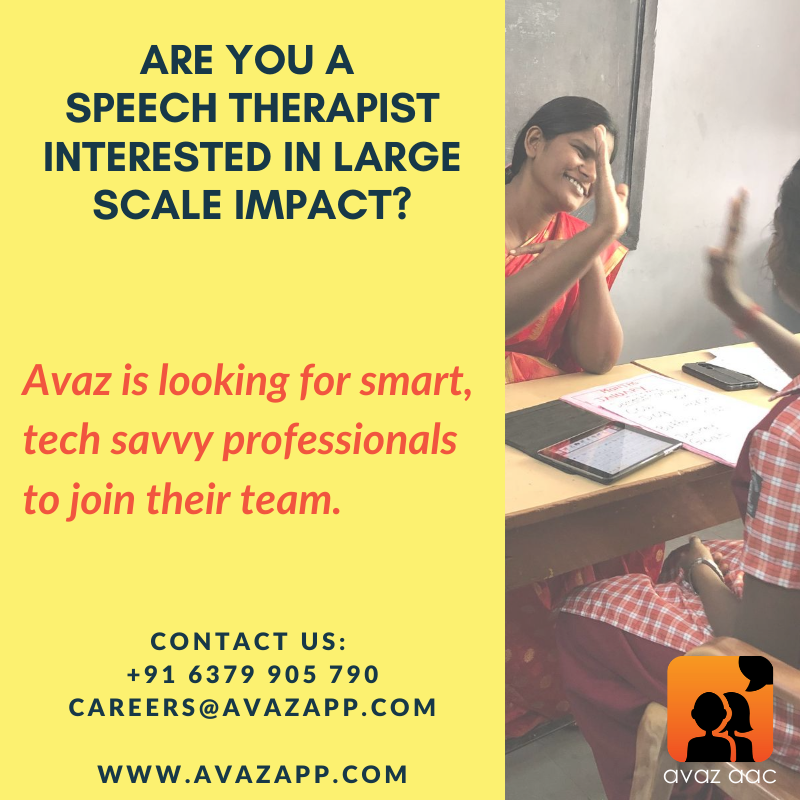 Avaz Inc. is looking for a Speech and language therapist for tele-therapy sessions.
Job Title : Speech and Language therapist
Location: Anywhere in India
Job Type: Full-time / part-time (min 4 hours per day)
Last date to apply: 30th Nov, 2020
Job Summary:
In this role, you will be providing tele-therapy services, for hand-holding the parents of children with special needs. The focus will be for guiding them towards successful achievement of the communication and language development goals, using Avaz and other tools. You will also be training parents to ensure that they can continue strategies during non-therapy times at home as well.
Avaz app is India's first AAC (Augmentative and Alternative Communication) app for children with special needs. You will be leading the teletherapy efforts for Avaz, playing a crucial role that aims for successful adoption of Avaz by parents, thereby empowering children users to have a voice of their own!
You will be working with a passionate and highly motivated Avaz team, focused on creating impact in the space of special needs and are willing to go the extra mile to delight the customer.

Responsibilities
Set up process for tele-therapy sessions
Provide live online therapy sessions
Sessions would include:

User profiling and assessment
Goal setting for the child (for at least 6 weeks)
Breaking them down to smaller weekly lesson plans
Providing guidance to parents through the following:

Avaz training
Relevant strategies, tips, ideas for implementation
Sharing relevant resources
Identifying user issues and suggesting strategies to deal with them
Sharing Weekly lesson plans for parents to work on
Documenting parent sessions and suggested work for the week
Following up with parents on a weekly basis
Analyzing feedback from parents and suggesting way forward
Weekly review of progress against the goals set and taking any corrective measures

Providing feedback to Avaz team for improving Avaz app and tele-therapy process
Qualifications and Skills
* Excellent communication skills in written and spoken English
* Prior work experience is a must, in the field of AAC
* Patience in dealing with children
* Creative in offering solutions, and ideas
* Ability to resolve issues related to handling children's issues with communication
* Dynamic and self-motivated
* Comfortable with use of technology tools
A definite plus:
Experience of working with Avaz
Experience of tele-therapy
Fluent in speaking Hindi
Those interested, please fill up the form to apply :